Chiropractic, naturopathy, nutrition, relaxation, 1-2-1 gym, personal fitness training and more in Sussex
COVID 19
We are open normally following NICE guidelines as indicated regarding PPE when recommended.
We are back and neck pain specialists
Steven Rudd, Fellow of the Royal College of Chiropractors with 40 years experience in healthcare heads a team of registered healthcare practitioners at Freedom Healthcare. The team offer chiropractic, MLS Laser therapy, naturopathy, nutrition, personal training, 1-2-1 gym, rehabilitation exercises for back pain and following a heart attack, sports therapy, massage and counselling.
Back Pain Solutions
Chiropractors will diagnose the cause of your pain and then advise on a range of treatments including gentle manipulation to help reduce pain and improve mobility. Once you are more mobile they can then advise on rehabilitation exercises, posture and lifestyle changes to reduce the likelihood of a recurrence. If we can't discover the cause of your pain then we will refer you to someone who can or you GP. Download our Back pain tips below for self help information now.

Neck Pain Solutions
Neck pain may come on suddenly after an injury, after sleeping awkwardly or may be due to poor work posture. Stress also can cause muscle tension . Chiropractors will examine you to find the cause of your pain and reduced mobility and advise you on the best treatment available. This may include gentle mobilisation, manipulation or massage. Once you are out of pain the chiropractor will then advice you on exercises to help reduce the likelihood of a recurrence. Neck pain can also lead to pain in the shoulders and down the arms. For tips on avoiding neck pain and self help tips click on the download below.
Back pain?  Neck pain?  Joint issues? Take 3 steps to better health 
1. Pain relief
Your first appointment will focus on looking for the cause of the problem.
We will explain if we can help you and how long it will take to resolve. If you are in pain you will want prompt treatment to commence as quickly as possible. In addition to physical treatment we can recommend nutritional support to help reduce pain, ease muscle tension and strengthen joints. We can refer you for x-ray or MRI where needed.
2. Rehabilitation
In the second stage
we focus on stopping the painful problem recurring by helping you build a stronger back. Our in house gym and 1-2-1 trainer will show you appropriate exercises to do in the gym and at home. Strengthening your core muscles can help treat and prevent many muscular problems in the future.
3. Prevention
Once
the pain is gone you can look forward to performing physically at your very best. We don't all want to compete but we do all want to feel and look our best and avoid pain. Many people choose to have an occasional preventative appointment and keep up their exercise programme.
 Please read some of the testimonials from our clients below

"I have been seeing Dr Rudd for 15 years and have been consistently happy with the excellent work he has done for me. I am 73 and fighting fit, and I attribute much of this to the chiropractic work of Dr Rudd. I very highly recommend him and his clinic. All the staff at the clinic are equally friendly and helpful. I am now beginning to see Sophie Rudd as personal trainer, and believe this is going to be an important part of staying fit and well." – John B
"I have been attending Dr Rudd's clinic for 21 years on a monthly basis, sometimes more frequently. I have only seen my GP three times, for accidents or to get a letter, during that time. I am now 71 and still compete in my sport at National level. I cannot find good enough words to describe Dr Rudd's dedication, knowledge or consummate skill. His service is friendly, client-centred and attentive to minute details of relevant systemic health issues. Couldn't recommend him more highly." – Joanna R

"My first experience with treatment at Freedom Healthcare was at this clinic. Dr. Steve Rudd was extremely efficient and used some very interesting equipment in his diagnosis. Steve is extremely knowledgeable, and is happy to explain what he is doing and why he is doing it. Unlike most 'crack them and kick them out' chiropractors Steve takes great care in analysing the issue and providing treatments that work but sometimes seem too easy to be real – let me assure you that they definitely are!
A single short treatment did my shoulder injury more good than several months treatment with my previous chiropractor, which was more than enough to convince me to make Freedom Healthcare my chiropractor of choice. I cannot recommend Steve Rudd and Freedom Healthcare highly enough." – Chris B

"My 12 year old son suffered with pain in his ankles and low plantar arches, as a result was prone to injuries during football training. He has received treatment from Dr Rudd since November 2020 and continues to have regular maintenance check ups to ensure he remains a stronger, confident football player. Orthotic supports were made and fitted into his boots, nutritional advice given, gentle Chiropractic techniques used and invaluable aftercare.
My 15 year old daughter experienced intermittent headaches, lethargy and nausea and has also been treated at Freedom Healthcare clinic. She has gained greater awareness about lifestyle, sleep patterns, diet and the importance of self-care. As a result of the regular chiropractic sessions, Kira's skin complexion is clearer, energy levels have increased and the headaches have subsided.
I would highly recommend Steve Rudd as he is extremely experienced, knowledgeable, possesses exceptional diagnostic skills and has a holistic approach to health and wellbeing." – Holly R

Dear Steve,
It has been 40 years since you sorted my stupid back.
I've just come back home after my latest visit and feel like my old self again.
You've never let me down and I appreciate your skill  and expertise. Please don't retire before I pass away…
– Malcolm S, 89 years young
I have always enjoyed gardening, walking, swimming, horse riding and yoga. Over 30 years ago I consulted Steve for back and leg problems. He has seen me through 2 hip replacements, broken femur, and various other problems, advised on my nutrition, and latterly I have greatly benefitted from laser treatments and some wonderful massages from Holly Russell. All this is why, at 90 years, I still enjoy gardening, some walking and swimming and Tai chi, including the short form in my daily 20 minutes exercises.  All possible through the excellent care and expertise I have received. – Pam C
Download our booklet on back pain or neck pain written by our clinic director Steven Rudd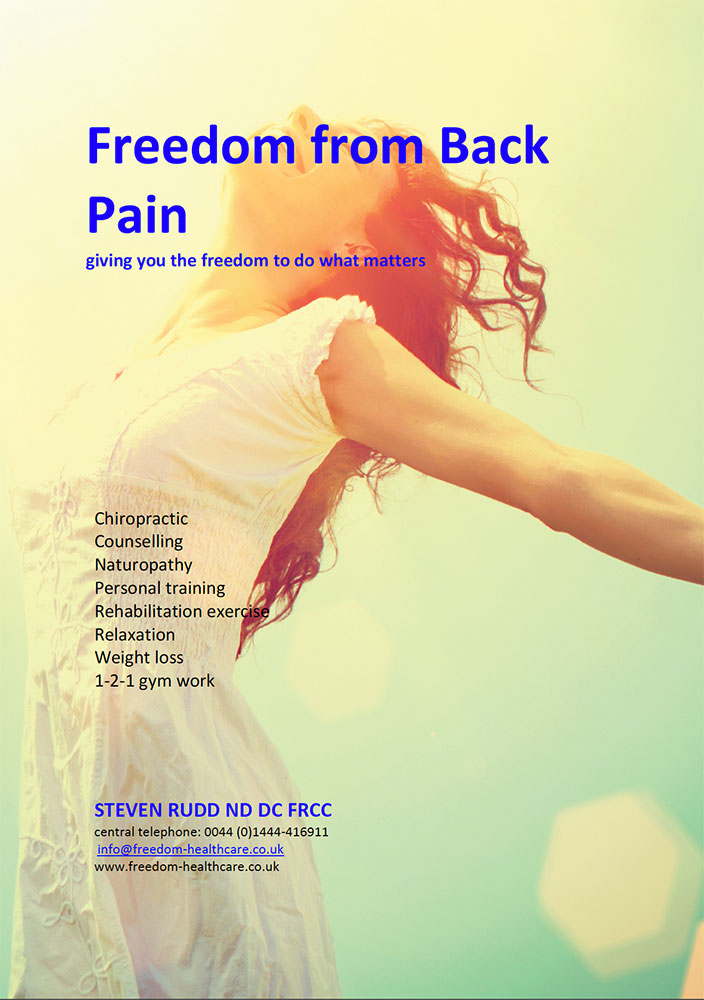 Freedom from Back Pain contains 11 valuable and usable tips for managing back pain.  
We will not share your details or swamp you with emails.
Download our booklet on headaches and migraine written by our clinic director Steven Rudd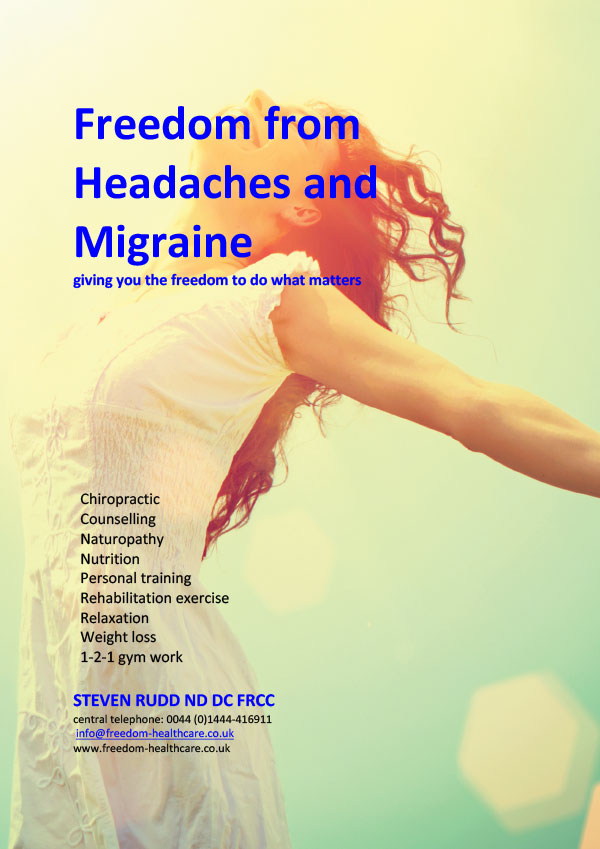 Freedom from Headaches & Migraine contains 8 valuable and usable tips for managing headaches and migraine.  
We will not share your details or swamp you with emails.
73 Edward Rd, Haywards Heath, West Sussex RH16 4QL
Over all we aim to give you the freedom to do what matters
We welcome clients of all ages and abilities to our clinic in Haywards Heath, which has wheelchair access. Our clients come from across the South East, London, Brighton and beyond.