Chiropractic, naturopathy, nutrition, relaxation, 1-2-1 gym, personal fitness training and more in Sussex
COVID 19
We are open once again, working with PPE to offer you treatment where every safety precaution has been taken.
We are back and neck pain specialists
Steven Rudd, Fellow of the Royal College of Chiropractors with 40 years experience in healthcare heads a team of registered healthcare practitioners at Freedom Healthcare. The team offer chiropractic, naturopathy, nutrition, personal training, 1-2-1 gym, rehabilitation exercises for back pain and following a heart attack, cranio-sacral therapy, massage and counselling. Currently we are operating using PPE for everyone's safety.
Back Pain Solutions
Chiropractors will diagnose the cause of your pain and then advise on a range of treatments including gentle manipulation to help reduce pain and improve mobility. Once you are more mobile they can then advise on rehabilitation exercises, posture and lifestyle changes to reduce the likelihood of a recurrence. If we can't discover the cause of your pain then we will refer you to someone who can or you GP. Download our Back pain tips below for self help information now.

Neck Pain Solutions
Neck pain may come on suddenly after an injury, after sleeping awkwardly or may be due to poor work posture. Stress also can cause muscle tension . Chiropractors will examine you to find the cause of your pain and reduced mobility and advise you on the best treatment available. This may include gentle mobilisation, manipulation or massage. Once you are out of pain the chiropractor will then advice you on exercises to help reduce the likelihood of a recurrence. Neck pain can also lead to pain in the shoulders and down the arms. For tips on avoiding neck pain and self help tips click on the download below.
Back pain?  Neck pain?  Joint issues? Take 3 steps to better health 
1. Pain relief
Your first appointment will focus on looking for the cause of the problem.
We will explain if we can help you and how long it will take to resolve. If you are in pain you will want prompt treatment to commence as quickly as possible. In addition to physical treatment we can recommend nutritional support to help reduce pain, ease muscle tension and strengthen joints. We can refer you for x-ray or MRI where needed.
2. Rehabilitation
In the second stage
we focus on stopping the painful problem recurring by helping you build a stronger back. Our in house gym and 1-2-1 trainer will show you appropriate exercises to do in the gym and at home. Strengthening your core muscles can help treat and prevent many muscular problems in the future.
3. Prevention
Once
the pain is gone you can look forward to performing physically at your very best. We don't all want to compete but we do all want to feel and look our best and avoid pain. Many people choose to have an occasional preventative appointment and keep up their exercise programme.
Download our booklet on back pain or neck pain written by our clinic director Steven Rudd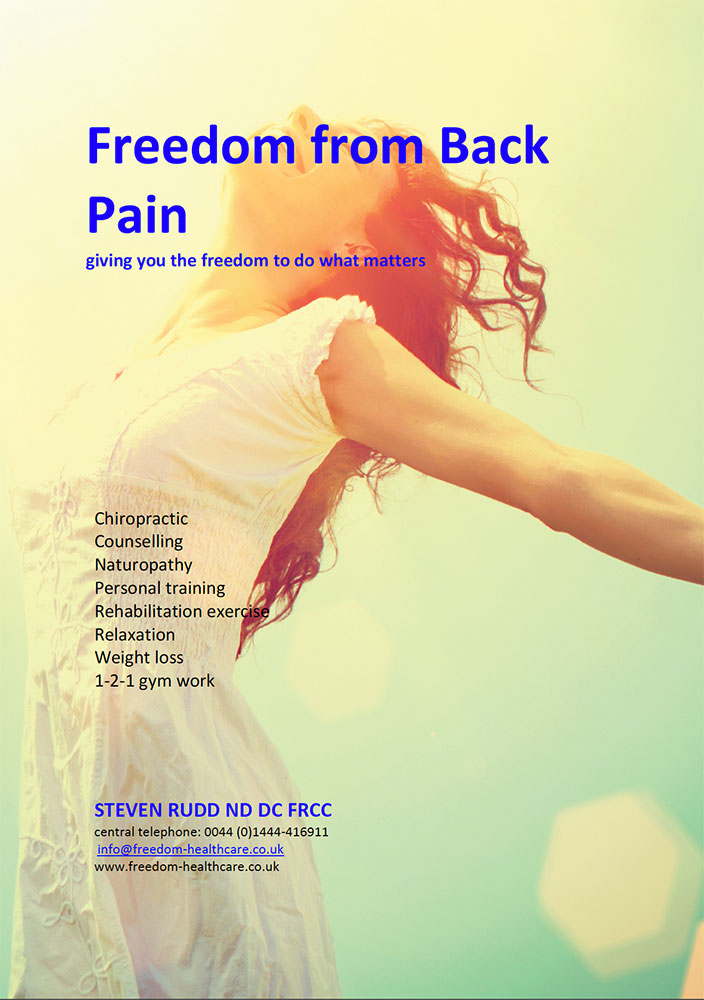 Freedom from Back Pain contains 11 valuable and usable tips for managing back pain.  
We will not share your details or swamp you with emails.
Download our booklet on headaches and migraine written by our clinic director Steven Rudd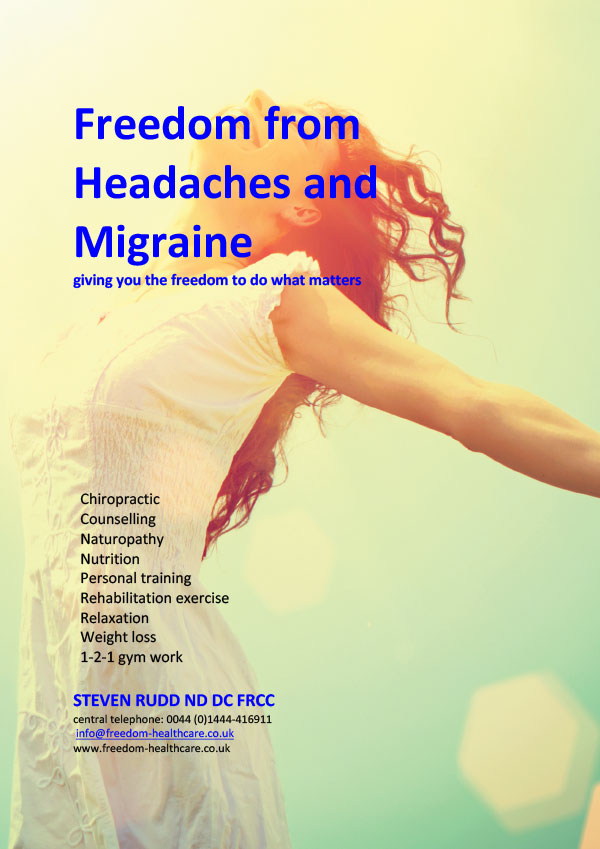 Freedom from Headaches & Migraine contains 8 valuable and usable tips for managing headaches and migraine.  
We will not share your details or swamp you with emails.
73 Edward Rd, Haywards Heath, West Sussex RH16 4QL
Over all we aim to give you the freedom to do what matters
We welcome clients of all ages and abilities to our clinic in Haywards Heath, which has wheelchair access. Our clients come from across the South East, London, Brighton and beyond.